---
December 30, 2012     Ramblin' 'Round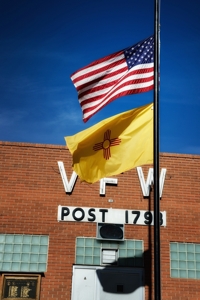 Enjoying a long Christmas vacation, I took a leisurely walk in downtown Raton with Christina Saturday afternoon, carrying my camera to find some images for a Sunday afternoon blog. I'm enjoying processing the photos in my second-floor aerie as a snowstorm gathers beyond the high elms out the south-facing windows. The resident woodpecker is in the east yard this afternoon, and the squirrels are absent, too, so all is still outside, pending the snow.
My favorite shot from yesterday's walk is this one of Raton's VFW hall. Right under the Post 1798 sign is a neon sign lit in a red "Open," but the red neon doesn't show against the bright sunlight. No matter: the bright colors of the waving flags against the many rectangles of the brick building and the wispy white clouds on deep blue sky all provide plenty of color and visual interest. Do you find anything special to look at, to intrigue your eye? I do: the colorless shadow of the American flag at the top of the entrance door, inviting interpretation.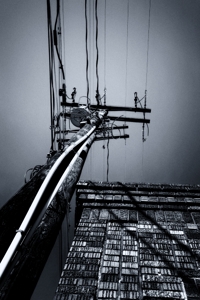 A block west I found similar geometry in the power lines crossing Park Avenue next to where the El Portal Hotel recently burned to the ground. The latter is now just a pile of bulldozed rubble -- I couldn't find a photograph in it -- but looking up I found these intersecting lines to be worth a shot. I tried black & white conversions on both of these vertical shots, using Nik Software's Silver Efex Pro, and found that it benefited the power lines but took too much away from the VFW building and its colorful flags against the deep blue sky.
If there's a subtext to the power line image, it's certainly more subtle than that of the VFW image with its black flag and its private bar open for our veterans in the bright light of early afternoon. There are things in this world that are hard to swallow.
Directly across the street from the VFW hall is Raton's oasis, Enchanted Grounds Espresso Bar & Cafe, where we began our wanderings with a light lunch and a cappuccino.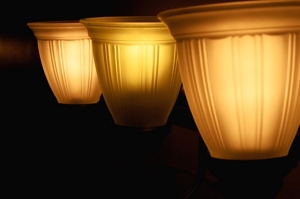 That's where I found these lamps, in a sconce along the west wall. The dining room had plentiful light, but in exposing for the brightness of the lamps the camera turned the rest of the room black, and I accentuated that by boosting the contrast even more in processing.
And that's all I found or captured that seem worth sharing. They're all shot with the 24-70mm f/2.8 lens, chosen largely so I could walk around less conspicuously than with the monster 70-200mm f/2.8. It was a low-key afternoon, a sweet walk on the quiet side with my gal.
---
December 19, 2012     More Little Miracles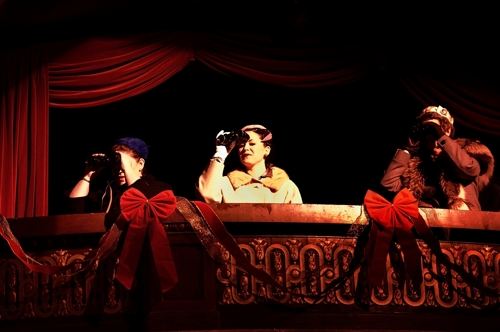 We went back for a second helping of Miracle on 34th Street and since I'd already photographed the show, I left my camera in the car. But in the lobby on the way in, the company asked to buy a disc of my images to share and enjoy; next year, they'll also use one or two for their advertisements. That was enough to get me to run back to the car and photograph a second show!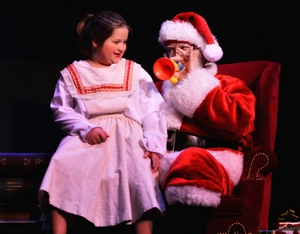 Between the two performances, the company is getting 30 images, arranged sequentially to show the narrative. The three photos here are my favorite shots from the second show. This one of Rick Trice as Santa, blowing the horn, is better than last week's because he's engaged and mischievous with the girl. And Santa's blowing a horn! As for the shot above, it looks like Jillian Solano's Doris Walker is stepping out of the play for a moment to look directly at the camera. The apparent crossing of "the fourth wall" makes this one a delight -- helped by the rich colors, the seeming spotlight on her, and the attention of Elizabeth Record and Adrianne Coleman remaining fixed on the parade on stage. (As always, click any image to enlarge it.)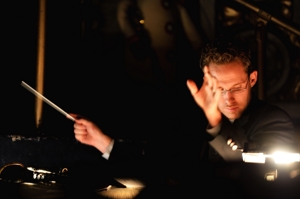 At right is music director Nate Ashbaugh, conducting the live orchestra down in the pit between the stage and the audience. I love the warm rich light in this shot, and Nate's intent face as he reads the music. I tried to catch him facing the musicians but whenever I did, he was moving too fast to escape blurring. In this shot, his hands are blurring but his face is in sharp focus, perfect.
My new lens, big and heavy as it is, has generally solved my problems of blurred photos from Shuler Theater performances. The new D4 can easily shoot up to ISO 6400 without producing graininess, and the constant f/2.8 aperture of the 70-200mm FX lens gives me several times more light than the 18-200mm DX lens can. Shooting at my usual 1/30 second, the lens shake, just from being so huge and heavy, was producing its own blurring. Adjusting up to 1/80 second has solved that problem and there's usually enough light to capture movement without blurring or going over ISO 6400. I used to find about 2/3 of my theater shots blurred; now less than 1/10 are blurred. The camera and lens together weigh 8 1/2 pounds, and they're about 14" long: I might as well carry a big PHOTOGRAPHER sign, which I don't like, but it's worth it to get these shots.
---
December 9, 2012     Little Miracles on 34th Street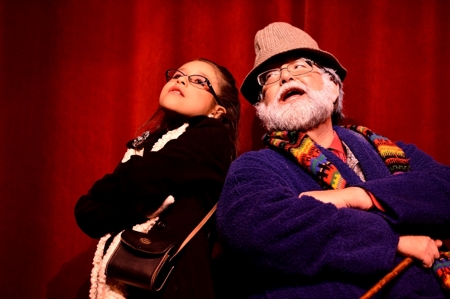 Raton's community theater Christmas musical made a big change from A Christmas Carol this year in producing Miracle on 34th Street - the Musical. An enchanting production with more actors and singers than I want to count, the final performances are next Friday and Saturday nights at 7. Here are some photos to entice you.
The girl is the ever-enjoyable Zoe Gomez. Rick Trice is in the first and last photos as Kris Kringle and Santa Claus. In between are Dreyson Solano and Jillian Solano, then nightguard Leo Linsky alongside Bill Fegan, and finally Elizabeth Record in an absolutely wonderful performance as Shellhammer.
Christina and I saw the Sunday matinee. The street outside was white with new-fallen snow, which made the driving slow but resulted in parking spaces being easily available. That there were as many people on the stage as in the audience says a little about the snow and a lot about the size of this production. It also shows yet again what a force theater has become in Raton, developing a breadth and depth of talent that allows director Gail Dixon-Willden to combine forces with our treasured Shuler Theater to gather big shows like "Miracle on 34th Street."
There's too much praise to fit into one blog but I'll just single out some favorites. Elizabeth Record's Shellhammer was a revelation and a hoot. I've seen her in previous plays, but nothing suggested she could so embrace and enjoy a role as she does in Miracle. She might have stolen the show had it not been such a big show with so many fun performances.
The central role of Kris Kringle joins the short list of Rick Trice's best parts, a perfect fit done perfectly. Little (still under four feet) Zoe Gomez can already anchor a play and she's still in elementary school. Again, Raton's rich theater scene has given her the experience to do that. I'm glad the Solanos have come home for good: Dreyson's scenes with Zoe, especially, were tender and alive; Jillian's character had the greatest arc to traverse and she did it predictably well.
Leo Linsky kept changing costumes and parts throughout the show in a sort of bravura Everyman showcase. He even donned a clown suit and rode a unicycle across the stage in a parade scene. Costumer Ursula Garcia had a big job just keeping Leo costumed; how she costumed an entire show this big -- and so beautifully and authentically -- is a mystery. I had fun seeing so many friends, including Kathryn Engel and Bill Fegan, join the merriment on stage.
Finally, the action wasn't confined to the stage. The big musical was accompanied by a live 12-piece band in the orchestra pit, conducted by Nate Ashbaugh and populated in part by gifted music students from Raton High School. Altogether there were enough sights and sounds to enjoy that we're already talking about enjoying it again next weekend.

P.S. -- In calling today's blog "Little Miracles on 34th Street," I'm thinking of my final music album, "Little Miracles," and that when I was carried home from the Culver City maternity ward to our Santa Monica home, where we lived until just after my fifth birthday, my first home was on 34th Street.
---
December 8, 2012     Watering the Lawn with Icicles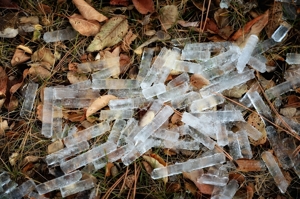 New Mexico's seasons are typically atypical. Our autumn started early and has lasted into December. Daytime temperatures have often been in the 60s as sunny days have been the norm. Last weekend I opened a faucet to water the lawn. Remembering that I hadn't connected the hose to the sprinkler, I quickly turned the water off and went to the other end of the hose. What I found there was enough for me to go get my new Nikon 70-200mm f/2.8 lens and shoot a pair of photos. In a line shooting out twelve feet from the hose were hundreds of icicle cylinders.
It's sunny and warm again today, but tomorrow's high is forecast to be 28 with several inches of snow. You can't tell today, but winter begins tomorrow.

P.S. -- Check the News page for links to the just-released 2013 New Mexico Vacation Guide with three of Tim's photos.
---
November 25, 2012     Carry That Weight

On a Thanksgiving holiday trip spent at Santa Fe, Lone Butte, and Madrid, I made a point of walking around with my big Nikon 70-200mm f/2.8 lens on the D4 to get used to its feel -- how to carry it and to wield it for quick effective shots; it's that big and heavy. I'm not there yet, but I'm closer. Here's a pair of my favorite shots. (Three others are going up today on my arts blog.) Above is Madrid's historic ballpark, now used primarily for concerts. I'm pleased to have envisioned exactly this image from the distance, all those high-contrast lines, and then got just what I was after. Sweet.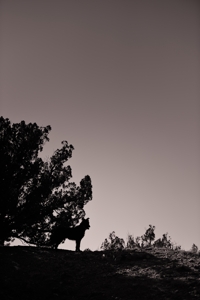 Here on the left is a silhouette of Django, my high-flying rambunctious young border collie, in a rare moment of stillness as he contemplates the distance. We're hiking up the arroyo below Lone Butte, climbing over the red rock ridges immediately behind the Eaves Movie Ranch, which has abutted Christina's family home property on the Turquoise Trail since its creation in the early 1960s. (I had a run-in with J.W. Eaves on a hike there years ago, but that's another story.) I almost never hike with the Nikon, much less with such a huge lens (this camera and lens together weigh 8.5 pounds), but with this image I'm glad I was in the mood to carry this rig with me wherever I went that day, even up the long sandy arroyo and over hill and dale, searching for images in the sand and rock.
---
November 17, 2012     A Rich Portrait Session
In a perfect alignment of the stars Friday evening, I wanted to use my new Nikon 85mm f/1.4 "classic portrait lens" on the D4 and Christina had just arrived home from having her hair styled: she wanted portraits! The sun had already set when she arrived and I found the D4's automatic white balance choices not as good as my own in post-processing, but otherwise the equipment did the job well. So did the model.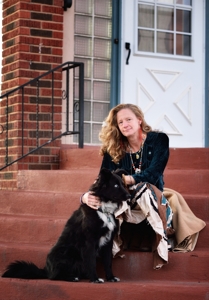 It was my first chance to take advantage of the red porch and brick at the front of our house. They provide a rich background, which I blurred to varying degrees by using the lens's wide apertures to get shallow depth of field. (With the sun already down, the wide apertures were also helpful in getting all of the light I could.) The portrait at top right was shot at f/2; the other two were shot at f/2.8.
As you go wider than f/2.8 you get even shallower depth of field so, for example, the subject's eyes are in focus but their ears are not. Depending on your angle, you can have one eye in focus and the other not, or the nose out of focus. Shooting wide takes special care. When it goes well, it's gorgeous. The shot below takes advantage of the full wide-open f/1.4 aperture of Nikon's FX portrait lens.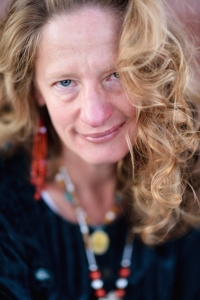 Because Christina's eyes are equidistant from the lens, they're in the same focal plane and thus both in focus. Some of the ringlets in her hair also fall through that focal plane for sharp focus. The rest of the image is blurred. (As always, click any image to enlarge it.) The super-shallow depth of field is perfect for portraits, drawing attention to just the spot the photograph wants, which is usually the subject's eyes.
I've been eager to compare my new FX 85mm portrait lens to my old Nikon DX 85mm f/1.8 portrait lens. You can see the DX lens results at any of my portrait galleries. The FX lens costs four times more and is revered by photographers. That I find the DX lens results comparable is a tribute to that lens. The FX lens did great here, and I look forward to giving it more and more work to learn how to make it really shine. Is it four times better than the DX lens? Nope. I am going to learn to love it enough to think it's worth every penny. Probably.
---
November 11, 2012     Comparing Lenses and Cameras, DX vs. FX
After five years happily shooting with my Nikon D300, I've recently bought this year's new Nikon D4, a big step up in price. The biggest price factor is the sensor size: the D4's sensor is "full frame," designated FX, meaning it's 35mm long, the size of a 35mm film frame. The D300 has a digital-sized sensor, designated DX, just 24mm long, or 2/3 the size of the full-frame sensor. Another way of looking at it: the FX sensor is 1.5x bigger than the DX sensor. To accomodate the larger sensor, FX lenses are that much bigger, or more: because their market consists of professional photographers, the materials -- especially the glass -- are all top notch. Prices go up fast and far. So do lengths and weights.
To help me see and learn the differences between the cameras and lenses, I tested them in our yard at sunrise yesterday morning, all from a tripod kept at one fixed spot. My tried-and-true DX lenses are Nikon's 18-200mm super-zoom, the 50mm f/1.4, the 85mm f/1.8, and Sigma's 10-20mm wide-angle lens. My new FX lenses are all Nikons: the 70-200mm f/2.8, the 24-70mm f/2.8, the 14-24mm f/2.8, and the 85mm f/1.4 "classic portrait lens." Above, I've started with the widest shot available in each kit: at left is the D300 with the Sigma lens at 10mm; at right is the D4 with the 14-24mm at 14mm. You can see that I shot the D4 before the sun reached the yard; look closer and you'll see that the 14mm FX lens goes wider than the 10mm DX lens. (Click any image to enlarge.)
Next I've paired the two cameras, each shooting the same 85mm DX lens. The D300 shot at left shows a true 85mm, paired with the lens made to fit its sensor. The D4, at right, gets only 2/3 as close, the equivalent of 60mm in DX format, because the DX lens comes in smaller when adjusting to the larger FX sensor. This has been my portrait lens; with the new FX 85mm lens, called by Nikon "The Classic Portrait Lens," I'll have to get closer to my subjects, which has disadvantages. To get the FX equivalent of what I've gotten in DX format, the lens would have to be an FX 128mm, i.e., 85mm x 1.5 = 128. The closest Nikon has to that is 135mm, and it's not the revered lens that the 85 is.
The next shot at the left is the 85mm FX lens on the D4, shot when the sun was behind a cloud. To my eye, the magnification looks identical to the shot above it on the right, which is the DX 85 on the same camera. Now let's go long: the shot at right above is the D4 shooting through the 70-200mm FX lens at 200mm, as close as I can get now with the D4.
Compare that to this one at left, much closer by putting the 18-200mm DX lens at 200mm on the D4. I was hoping the DX lens on the FX D4 would produce the equivalent of a longer zoom, 300mm (200 x 1.5), but you can see that I get the same magnification here with the 18-200mm lens at 200 mm on both the D4 (left) and D300 (right). Alas. All the math and physics of these equations elude me, which is why I ran these tests. I've put all 19 test comparison shots on a single pdf file and posted it here, in case you'd like to see them.
Does this mean that I've become a gear head? Au contraire. I buy what I need, then I stop buying. I'm still figuring out how my D300 and DX lenses will fit my future work with the new full-frame kit, but I'm done buying lenses for the D4. The only lens I need but don't have is something longer than the FX 200 (via the 70-200mm lens), equivalent to the DX 200 so FX 300, but at f/2.8 those are so huge that they're useless without being mounted on a tripod, and they cost $6000. Each. I'm happy with what I have!
---
November 3, 2012     Nikon's "Classic Portrait Lens"
I took my new portrait lens out for a test drive yesterday, shooting my friends Hunter and Noah in late afternoon light outside my house. The brothers were game and I got some good shots. For five years I've been thrilled with the portraits I've gotten from my Nikon 85mm f/1.8 DX lens on the D300. I've looked forward to seeing how Nikon's larger, full-frame 85mm f/1.4 FX "Classic Portrait Lens" compares, mounted on my new D4.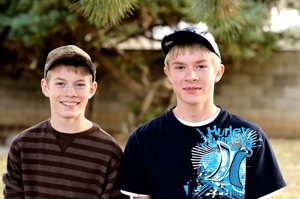 It did pretty well in my first try, enough for me to believe it will live up to its vaunted reputation as I get more shots. The subjects pop out of their backgrounds with a beautiful "bokeh" (from the Japanese), or blur, behind them. They were shot at f/1.4, taking full advantage of the super-wide aperture of the fast lens and blurring everything except the boys' faces. The shot below was taken at f/4, with the added depth of field keeping more of the boys and the background in focus. (As always, click any photo to enlarge it.) It's a good enough start to make me eager for more.
---
Want to see September/October?