---
December 20, 2011     A (Black &) White Christmas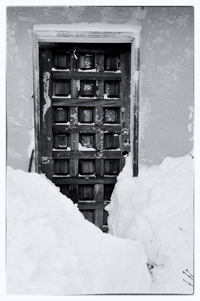 A blizzard dumped a lot of snow on us yesterday and the wind swirled it around real good so today we have amazing deep waves of snowdrifts everywhere. I went out to get some photographs in the morning. Although these pictures look better here on the black background of the photography blog, my arts blog didn't have any new content this week so I posted three new snow photographs there -- check them out.
The photo here shows our garage door after Christina had dug a path to it. Later I dug a longer path to the chicken coop through drifts from knee-high to thigh-high. The chickens (and duck and turkey) were mighty glad to see me! They couldn't even get out of their coop until I dug them a clearing and spread some feed. A big snow is big fun (unless you're stuck out in it or stuck driving through it), and after it stops is when the photographers' play day begins.
---
December 18, 2011     A Great Stage Photographer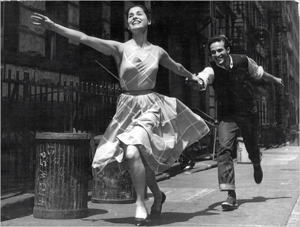 I've been a photographer of stage productions for three years, long enough to recognize a master when I see one. I didn't see Leo Friedman's Broadway images until I read his obituary in the New York Times two weeks ago. He was a great one.
I loved reading about how he stumbled into photography, very much without intention. It strengthens the argument that, although much can be taught or learned about what makes a great photograph, in the end it depends on some innate sense that can't be fully taught. I know photographers who wield a camera/lens combination costing $8000 whose portfolios are dull, and others with inexpensive equipment who repeatedly produce riveting images.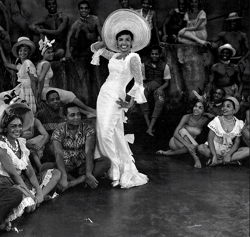 These first two pictures show Friedman's strong sense of composition. The publicity shot for the original Broadway production of West Side Story captures the kinetic thrill of Maria's and Tony's new love while establishing its setting, but the composition is equally important: they're bursting both into the frame and out of it, tightly filling the frame while creating an important diagonal line from lower right to upper left. For good reason, it is one of Friedman's most famous images.
In the second photo, Lena Horne stands out from a crowd of dancers through composition and contrast. Again there's the strong diagonal, this time from lower left to upper right, but the line of seated dancers also describes a curve, with an empty foreground, another strong compositional element. Lena (who was so fabulous -- see her in Stormy Weather) would probably dominate any image she was in, but here the white dress, the curve of her body, and that big curve of the white hat against the dark background all center attention on her until our eyes finally land on that magnificent face. Not seen is Leo Friedman, who created the image.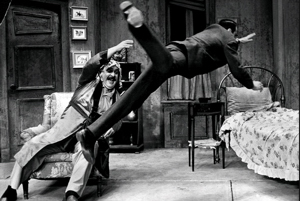 When I photograph a play, I want images that suggest story, which usually involves interplay between characters. Two characters together is not enough: the viewer should sense an exchange between the characters. It should be a moment in which something is happening, which can be as subtle as a character's eyes, or as dramatic as this amazing shot of Zero Mostel seeming to throw Eli Wallach across a room, from a chair! And do you see the ever-present diagonal again? The best images almost always have great compositions. Because there's seldom time to carefully plan a composition before shooting, I think the best way is to spend 10,000 hours studying images -- in magazines, newspapers, Flickr, photo.net, everywhere -- to learn the difference between strong versus weak compositions, so that when you shoot you compose the frame intuitively. It's been called "the tyranny of the frame": regardless the subject matter, any image is always a composition within a frame. (Unless it's not, which is bad.)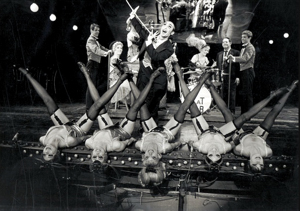 Finally, let's look at this remarkable image from Cabaret. Joel Grey stands over the Kit Kat girls at the edge of the stage. Here the strong diagonal is replaced by a motif of Vs -- in the gals' legs, in the line of heads behind, in Grey's head and arms, and in the backlights. The V is actually two diagonals; in fact, pull back and you can see an X across the frame. At first glimpse the image has a topsy turvy sense that it might be upside down. My own Cabaret shot has an upside down V composition. Coincidence? Of course, but it's also true that good photography involves capturing slice-of-life moments in strong compositions, usually on the fly, so it behooves us to train our eyes and then rely on our intuitions. Leo Friedman knew all about it.
---
December 11, 2011     A Christmas Concert A Cappella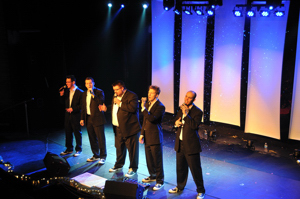 I usually post photos from my arts reviews over on the TKA Blog, but last night's concert by the amazing a cappella singing group Home Free produced this pair of photos that seems appropriate for the photography side of my site. (Besides that, I just posted commentary and photos from the previous night's "A Christmas Carol" on the arts blog and I'd just as soon leave that on top for the week.)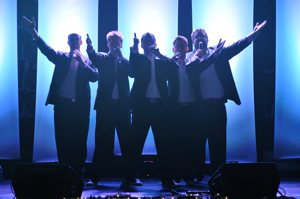 I also posted blog photos of Home Free's previous Shuler Theater concert, and I see that the April 24, 2010 posting was on the photography blog, too. I guess that qualifies the band as photogenic! They're also exciting to listen to...and to watch: you watch to try to figure out how the vocal percussionist can get all those drum, cymbal, and percussion sounds from nothing but his mouth, filling the room with a rhythm section augmented by the bass vocalist. Amazing. Watch for my review in The Chronicle-News early this week.
---
December 10, 2011     All in the Family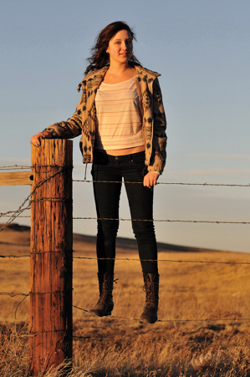 I'm going to indulge myself (and I hope you) by posting one last set of images from the highly productive Thanksgiving shoot, photographed just before carving the big turkey. There were eight of us gathered for a modern-typical mash-up of family; I've shared details at the two earlier blogs below.
Here's my portrait of Quianna Swing, literally on the fence. Once again this location behind Christina's nearby gallery Studio C, and across the railroad tracks, came through with some great settings for portraits. It's such a short walk from home that it didn't keep us long from the holiday feast preparations. Quianna and her brother Raven were easy in front of the camera; this shot on the fence was one of my favorites of the day.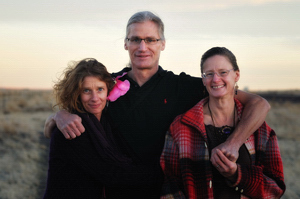 A tougher subject is my sister-in-law, Karyna Boyce (far left), who has always resisted being in front of my camera. Something changed, though -- perhaps her relationship with Quianna and Raven's father, Peter Swing -- and Karyna did really well, as seen in this lovely portrait of the three Boyce siblings, my wife Christina with younger twins Karyna and Richard.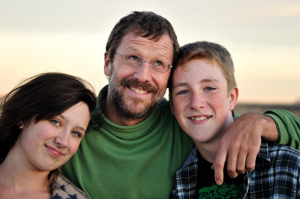 As a divorced father myself, I've gotta love this portrait of Peter with his kids. I know how he feels. And I'm pleased to have been able to capture the feeling. I got some great images of these three, but this one's my favorite, thanks to Peter's joyously appreciative expression, like he's thanking God or the heavens for his good fortune.
Finally, I used the tripod and timer to be able to set up shots and then run into them to join the extended family for some portraits. That's me in the black t-shirt, second from the right behind lovely Christina, my link to all these other good people, my modern mash-up of a family.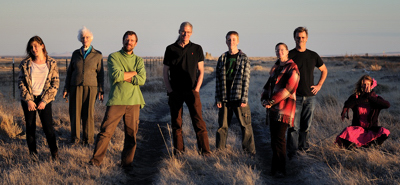 ---
December 3, 2011     Photography Trick #6a: Jump!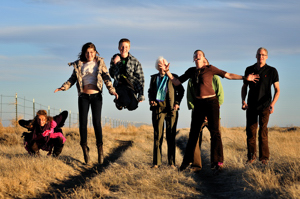 Thanksgiving's photo shoot (see my last entry, below) was so successful that I could keep posting photos here for a long time. I'm going to practice restraint...if you can call these photos restrained!
One trick used to loosen up a stiff portrait subject (or seven of them) is to ask the subject to leap into the air a few times. That can produce some fun images and relax the subject for subsequent portrait shots. I'm not the first to use this method; in fact, it wasn't I who suggested it to the Boyces and Swings on Thanksgiving. Karyna did, evoking the Beatles. Boy, did it work!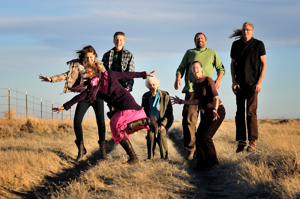 I'm tempted to nickname young Raven Swing "Pogo" -- he's at least three feet off the ground not only in the first photo but, less obviously, in the second photo as well. I like his sister Quianna's great boots in the air in both pictures, too. (Click any image to enlarge it.) Can you imagine photos of your family doing this just before Thanksgiving dinner? (Think about it!) Therein lies the fun.
Of course I couldn't use a delayed shutter to run and join them in the jumping photos -- I couldn't have timed it to catch the moment of the jump -- but when a long freight train approached, I managed to get myself into that picture (below).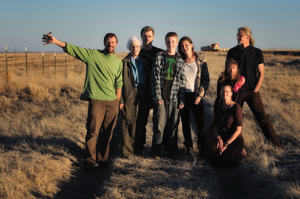 In fact, we did it twice. This is my favorite, the long train framed perfectly between two wings of people (pure luck), accentuating the long distances ever-present in this gorgeous land of northeastern New Mexico.
I don't think I'm done yet. In fact I'm going to try to hold myself to just one more posting from this shoot, and it will be hard to choose which images to include. Stay tuned.
---
November 26, 2011     Giving Thanks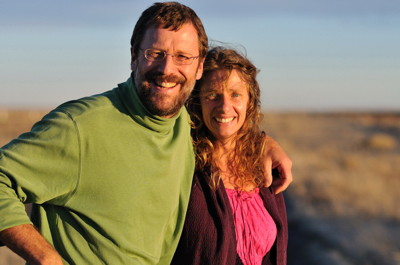 Because the turkey weighed 27 pounds (how is that possible!) I was up early Thanksgiving morning making the stuffing and readying the big bird for its long day of roasting. But I was careful to time it so we'd be mashing potatoes and making gravy after sunset, because that time I'd set aside for a photoshoot with extended family. The field behind Christina's Studio C is only a quarter mile from our house and has often (1, 2, 3, 4) served me well as an effective outdoor portrait studio, always at sunset.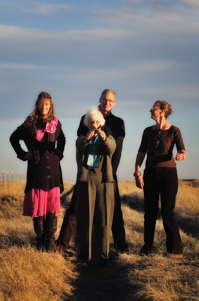 My sister-in-law Karyna Boyce brought her beau Peter Swing (above) and his daughter Quianna Swing and son Raven Swing (below), adding vitality to the holiday gathering and to the photoshoot. Karyna, Peter, and Raven are gifted musicians with their own popular Santa Fe band, Polyphony Marimba.
In 25 years as part of the Boyce family, I don't think I've ever before succeeded at getting them all together in front of a camera. Something new clicked for them Thursday evening and I got a large series of wonderful images such as this one with playful matriarch Helen Boyce making a cross of two railroad spikes, backed by her kids -- twins Karyna and Richard Boyce III, along with elder sister Christina Boyce. (Click any image to enlarge.)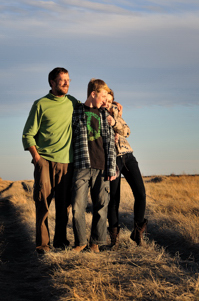 There's a century-old two-track still in use along a barbed wire fence which I often use for its leading lines, adding a strong compositional element. It looks different every season, every year, so there's little chance of repeating myself. I like to stand my subjects along those deep lines. I use the 85mm portrait lens which allows me to use a wide aperture, blurring backgrounds to accentuate the subjects. (I used f/2.2 to f/4 for most of these, with a few at f/5.6.) Of course, it's not a zoom lens, so I traded off with everyone in moving ourselves forward and backward.
Then I put the camera on a tripod and shot with a 10-second delay, running into the photo myself. I hadn't planned it this way, but the shoot was so successful that I solved the question of what to do for Christmas presents this year: I'm making everyone discs with 32 large images that convey the fun we all had in making pictures. Meantime, I'll be surprised if I can resist posting some more here in another blog sometime soon.
---
November 20, 2011     Chamber Music in Dim Light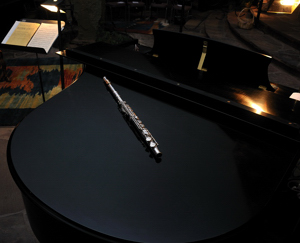 After the opening night performance of Agatha Christie's "And Then There Were None" at Raton's Shuler Theater last weekend (see my review), I met Randi Whitman, who I knew from her trio performances at The Mandala Center. She expressed interest in a photograph which I'd shared with her on my camera's 3" display right after a concert. She'd never seen it processed or larger than three inches. I've gone back to the images I took that night in September 2009 and processed this photo of Randi's flute for her. Click on the image to see it larger and better. Neither she nor I have ever forgotten the image, so I'm glad to finally post it on my website.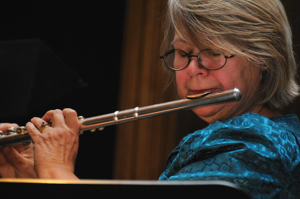 Christina and I actually hope to make Randi and her husband our neighbors someday -- our hearts are engaged with a beautiful property up on the side of Bartlett Mesa, through the trees from the Whitmans -- but that's another story, off in some future, dependent on selling our large remote property down 20 miles of dirt road.
It's photography and writing, mostly, that changed my mind about living so far away from people. I long thought I'd be happy to retire a hermit far, far away, with a guitar and garden and books and views and endless hiking, but it turns out that my photography and writing largely require people. The area by the Whitmans is the perfect compromise: I can have almost everything I'd planned except the 20 miles of dirt road. (And maybe the orchard and garden and compost, which would be too attractive to the ubiquitous deer and bears.) It'll put us right outside Raton, which has become our community of choice -- and increasingly the source of many of the photographs posted here.
---
November 12, 2011     11-11-11-11-11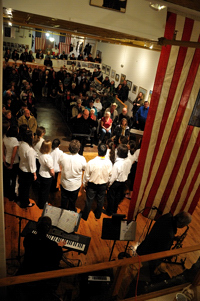 I wondered why yesterday's Veterans Day celebrations were more widespread and prominent than any I could recall. Christina suggested that not only was it a Friday, but the date was 11-11-11. I don't know what that has to do with veterans, but it does show the promotional value of a good hook.
The Raton Museum marked the closing of its monthlong Smithsonian exhibit "Journey Stories" with a Veterans Day celebration complete with color guard, veterans' stories, and the debut of Bill Crary's new teen Raton Glee Club singing, of course, patriotic songs. Christina was there for KRTN, along with Alan Kenny, so I tried to contribute by getting some photographs to accompany Christina's news item on KRTNRadio.com.
From a photographer's perspective, it was dark and crowded, and most of you know that I prefer not to use flash, whenever I can possibly avoid it. I succeeded -- barely -- at avoiding it last night.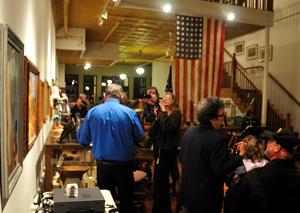 I exploited my knowledge of the labyrinthine Raton Museum to get around the tightly-packed crowd to get different photographic vantage points. I like the perspective and angles of the top shot, the glee club singing under the flag; you can see Christina and Alan against the wall immediately to the left of the flag. There they are again in the photo below, where Christina and Raton Range photographer Franky Mahannah are photographing Alan in radio action. Not the best photographs (okay, not even particularly good photographs), but such is the life of a photographer, doing the best one can with what one's got.
From there Christina and I went to the Shuler Theater to enjoy a fun Agatha Christie play (see today's TKA Blog). When we got home late, Christina pointed out that we were just in time to throw our own little celebration at 11:11 p.m. when the clock ticked over to 11:11 on 11-11-11. I didn't get a picture of that.
---
November 6, 2011     All a-Twitter with a Portrait Project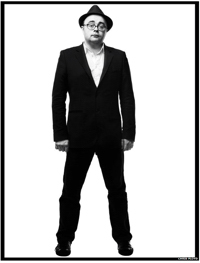 Along with daily reading of some online newspapers (NY Times, LA Times, Washington Post, etc.), I keep my eyes open for interesting photography stories and peruse photography websites. The above newspapers have their own excellent photography sites. A good clearinghouse is PhotoJournalismLinks. I check in at Flickr and photo.net less often these days. (Photo.net remains the best place to begin an immersion in photography). I bookmark good sites of individual photographers that interest me and I look in on them periodically. (I'm currently enamored -- and envious -- of the recent American road trip project done for TIME Magazine by war photographer Lynsey Addario.)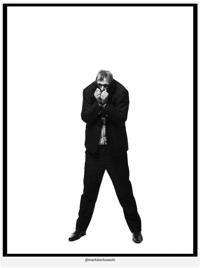 At BBC News, I discovered London professional photographer Chris Floyd whose "One Hundred & Forty Characters" show is up at London's HOST Gallery November 3-17. BBC's feature explains the show through an extended interview with Floyd. He says photography used to be communal with people visiting for hours as they worked together in darkrooms, but now that processing is digital, "I now often spend days at a time without leaving the house, hunkered down in my loft office, never opening my mouth to actually speak to anyone, communicating by e-mail." He discovered Twitter a couple years ago and developed a following of people he'd never met. He decided to send out a tweet inviting them over for tea and a photograph. What developed was a fascinating show of Avedon-like portraits with a Twitter theme: black characters on white, titled with Twitter's basic concept of messages not exceeding 140 characters.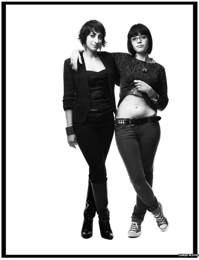 He hung a white backdrop in his studio, visited over tea, then lined up his new friends and took their pictures. Over time, he built the show. Some visitors came alone, others in groups.
"About 99% of my work is in colour and I wanted to do something that was pure, unadulterated black and white, very graphic in form." On his approach to portraiture, he says, "I often look for what I call 'the moments between the moments.' You get these fleeting periods where people forget where they are, for a fraction of a second, and all pretense drains away. It can be revelatory...You have to create the space for their emergence to be possible. Let silence hang in the air sometimes. You have to be ready for them, they don't last long...a great portrait will reveal some elementary truth of the subject. It's that I try to find."
At the end of the feature, BBC provides a link to Floyd's own blog on the project, which has more photos and extensive notes. I've yet to have any interest in Twitter myself, but I love what Floyd has done with it. There's the basic fact: every photographer, as every artist, is looking to find and/or create the next project. I'm looking for mine right now.
---
Want to see September/October?