---
April 25, 2010      Sweetness in Red, White, and Blue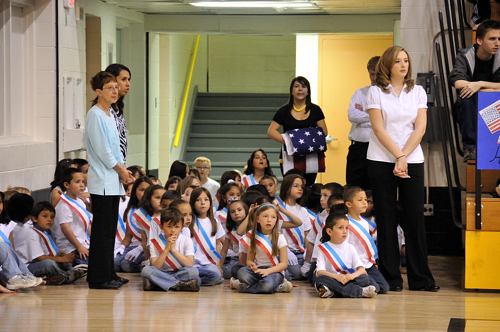 I can't resist this photo (click to enlarge): look at those faces! These elementary school students were awaiting their turn Friday afternoon to take the stage and sing "God Bless the U.S.A." at ceremonies honoring "hometown heroes", local National Guard soldiers just returned from a tour of duty in Iraq.
It's a sweet glimpse of small town America. In my Chronicle-News report, I invoked the paintings of Norman Rockwell.  Enjoy.
April 24, 2010      A Full Band from Five Big Mouths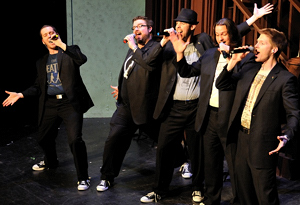 Thursday night's Shuler Theater concert by Minnesota a cappella band Home Free was a revelation: they have their own rhythm section, and it's phenomenal.
Bass singer Tim Foust actually sings bass parts to accompany the extraordinary Adam Rupp, who plays all the drums, cymbals, and other percussion -- simultaneously -- with nothing more than his mouth. Amazing. Most of the time, there are three harmony voices singing over these two rhythm parts.
That's Adam playing drums on the far right , above. Yeah, I know, it looks like he's just singing...it's disconcerting. Tim is singing his bass parts right next to Adam.
Here on the right is Adam's older brother Chris Rupp. In addition to vocal performances, the ensemble is a great comedy act. Along with some set stories and jokes, they obviously have a good time on stage and improvise a lot of funny stuff. Even their set list made me laugh: they perform an a cappella rendition of the surf instrumental Wipeout!, including its famous drum solo.
I photographed and reviewed the show for The Chronicle-News -- watch for it this week.
April 21, 2010      From a Distance
J.R. Alderette was in a pensive mood the day I asked him for five minutes outside. The shots in which he gave me eye contact showed that he wasn't comfortable looking at the lens, but I like this shot of J.R. looking off into some distance, relaxing a moment into something that was on his mind.
I took another the same afternoon, of Tom Vertovec. Like J.R., Tom was more comfortable looking off into the distance rather than confronting the lens.
One of my photos is in the current (May 2010) issue of New Mexico Magazine. They seem to like it: it's the one they selected, from a series, to accompany their travel feature "Man-cation" in which they suggest Raton as a man's paradise, too untamed for women. Enjoy...and travel to Raton at your own risk!
April 17, 2010      To Capture a Moment of Truth
Continuing my current series of black & white portraits and, specifically, a series that I'm taking in a shaded outdoor passage behind my school, here's a portrait of Mike Sparaco, taken after school on Wednesday.
Mike is the school's principal, and a good one. To me, he feels more like a co-worker, colleague, and collaborator than a boss -- he doesn't lord the boss thing over you.
An outdoorsman and hunter, a one-time wrestler, and a man of confidence, I like the portrait for its suggestion of both confrontation and uncertainty. This was the first shot I took. (As always, click the photo to enlarge it.) I had just shown Mike where to sit, on a concrete step, and I fired this off before he had time to prepare. It's my favorite of a good series. (It's also the only horizontal format: I shot it so quickly that I didn't take time to rotate the camera.)
I'm processing these through a combination of Nikon Capture NX2 and Adobe Photoshop. The B&W conversion is done in NIK Software's Silver Efex Pro software, a filter run through Photoshop. I use my portrait lens, the Nikon 85mm f/1.8, setting the f/stop at f/3.2 in aperture priority, for the shallow depth of field and to get plenty of light in the shaded alley.
In early June I'll be updating all my galleries here at TKP. To the three existing portrait galleries, I'll be adding one of exclusively B&W portraits -- where I expect this image of Mike to fit well.
April 11, 2010      Too Bad It Wasn't More Fun!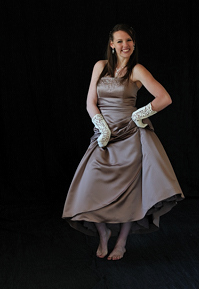 Last summer I spent many hours, across three late afternoons, shooting Laekyn Reust and her horses (1, 2, 3) out at her family's ranch west of Seneca, New Mexico, for my Growing Up Rodeo feature that ran in the October issue of Western Horseman. Laekyn's mom Robyn did a great job as my lighting assistant.
So I was pleased when they asked if I would shoot some new pictures to announce Laekyn's graduation from high school. It would also provide the first opportunity to set up my new dark-charcoal backdrop in the West Gallery of Studio C -- my first foray, in fact, into studio photography.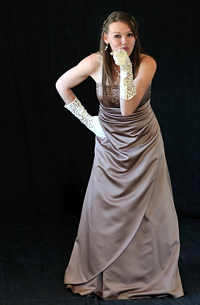 Shooting manually throughout the 2-hour photo shoot was easy in such controlled conditions. I began with two flash units on stands -- one into a 48" umbrella, the other behind Laekyn (first aimed at her hair for highlights, then at the backdrop for a halo effect), firing both with Cactus radio triggers.
I worked mostly between f/2.8 and f/3.5 for shallow depth of field, riding the shutter speed and flash power to effect. It may be more about me than the light, but I found myself using less and less flash until finally I was shooting with nothing more than the light from the west window, visible here from Laekyn's right. In fact, although the 31 images I sent include many with flash, my favorites -- and everything I'm posting here -- were shot with only window light. (So much for me and flash!)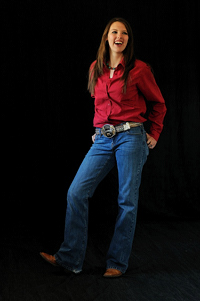 While I did shoot some traditional "senior picture" type of images for her, I loved taking advantage of Laekyn's playful personality to get shots that more effectively portray who she is. It was important to me not to create "senior pictures" that look like the same hackneyed images most people have gotten for generations.
Portrait photography depends upon the chemistry between photographer and subject; here, that was easy and fun. I'm pleased that many of our shots yesterday brought out the playfulness that's characteristic of Laekyn, producing images that are lively and irresistible.
In fact, our success yesterday has me revved up for my next studio session -- who's it gonna be?
April 10, 2010      Adding to My Black & White Portrait Series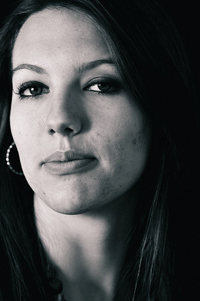 From today's studio portrait "sitting" (it's often called a sitting, but none of us ever sat, not once) of Laekyn Reust, I managed to get one image to go with my current series of black & white portraits.
As with the others in the series (see below), this was taken with my "portrait lens", Nikon's 85mm f/1.8 prime lens, attached to my D300. There's a black backdrop behind her, west window light from her right, and no flash. The exposure was f/2.8 for 1/80 second, ISO 200; all adjustments were done manually throughout the shoot. Processing was done in Nikon's Capture NX 2.
I enjoy seeing such a different statement than anything else we took (see above), and it strikes me as a worthy addition to the portrait series.
April 8, 2010      Capturing Stillness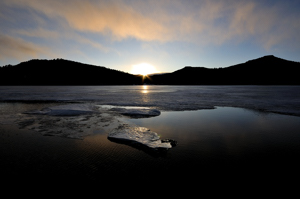 It's harder to find a good landscape to photograph than a good portrait; thus, as winter has receded and I've started hankering to get outside to photograph portraits and landscapes, the portraits (below) came first.
Landscapes generally require going out before dawn, with a location and composition in mind but being completely dependent on the light. You set up your tripod and stand there awaiting great light (usually dependent on clouds), which you may or may not get.
Or you go out in the evening and do the same thing. Half the year -- the best half for landscapes -- you freeze while you wait. Being April, these shots weren't too bad: it was 32 degrees at Lake Maloya after the sun set and I got back into the car. Cold enough that there wasn't a single fisherman or hiker -- no one -- anywhere around the lake; I was completely alone, in April.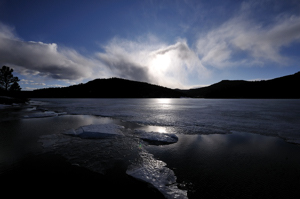 Had there been a fisherman, I would have incorporated him, or her, into a shot. (New Mexico Magazine recently requested a stock photo of a fisherman at Lake Maloya; I didn't have one.) The lack of people didn't hurt the pictures, though. I stood there for an hour, waiting for the right light. My favorite is above. An earlier shot is at the right, a later shot here.
I'm working on having five new images for our area's biggest annual art show, at summer's end. Meantime, I have five photographs in this month's Solano Photography Exhibit and Sale at the Old Pass Gallery in Raton, but they're modest entries. Last year my portrait of Archie West won Best of Show and a cash prize, but the photo still hangs for sale at Studio C. It's too expensive to keep framing up large new works for each show, so I've entered smaller, more modest works in the Solano show this year. They're photos I framed earlier for Studio C -- Christina asked for some less expensive pieces to display for sale in her gallery.
Why don't award-winning photos sell as fast as I can frame them? Museum-standard archival printing, matting, and framing is expensive. The resulting prices are too high for northeastern New Mexico; they'd be low prices in Santa Fe or other urban art markets, but out here my prices are considered high, even though I only break even on them. Yep, at these prices, the only people making money on my photos are the printer, the framer, and the gallery or show: I just break even on the costs and don't get anything for the image. So it goes.
Christina suggests that the market will find me and that I'll then be able to be paid for the images themselves, an actual profit. (I assume I'll have to go find the market, rather than wait for the market to find me.) Until then, buying prints here (where I do make a modest profit) or framed pieces in shows or at Studio C remains (arguably?) a bargain. What do you think?
April 5, 2010      Tinkering with the Past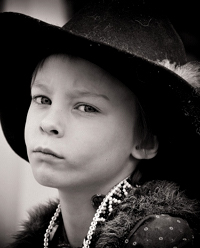 While waiting to find more subjects for my current black & white portrait project, I went back this morning through some older color portraits and found these two that I think benefit from a conversion to black & white.
In the film days, you shot color film or B&W film. With digital, all the information is captured, including colors, and you decide later what to do with it. I'm processing in my usual Nikon Capture NX 2, but doing the B&W conversion in Photoshop in order to use NIK Software's Silver Efex Pro filter, which gives me added controls in going black & white.
Both these subjects live north of me. I took the photo of Ben, right, two years ago in Folsom, near where he lives out in the country. You can't tell it by this picture, but he hadn't even started school yet. Most people's faces never get enough of what I'll call subtext, for a portrait; Ben already had endless stories on that face, at the age of 4.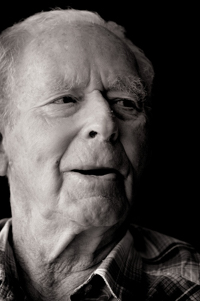 Willard Louden, like Ben, has probably always had stories suggested in his face. Willard's my friend from Branson, Colorado, a renowned painter who's also been a rancher, pilot, archaeologist, world traveler, and lots of other things. I photographed Willard for a profile in The Chronicle News last fall.
Neither of these images has been in the galleries here. I was planning to update the galleries while I'm on spring break this week -- it takes some days of work to add photos, and I'm also planning to cull some weaker images -- but I've decided to wait until summer vacation arrives, because I'm in a mood to shoot a lot of pictures right now so it makes sense to hold off on the galleries a bit. Watch for the updates around June 1.
April 3, 2010      The Simple Truth in Black and White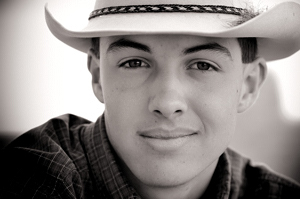 I've embarked on a series of black & white portraits. Many photographers feel that all portraits should be in black & white, because it focuses the image down to what it should be -- a connection between the viewer and the subject. This requires communication: a successful portrait captures a glimpse of something real in the subject's soul. The verb capture is appropriate here: these glimpses are elusive, not at all easy to get.
In fact, portrait photography is dependent on a chemistry or relationship between the photographer and subject during the photo shoot. Each photographer handles it differently. Annie Leibovitz says she's never asked a subject to smile -- in fact she never says a word to them about what to do with their expression -- and that she's only published two portraits with smiles because those two did it naturally. (One was Janis Joplin.)
The gold standard is Richard Avedon, who stood his subjects against a white or gray backdrop and somehow stripped them of all artifice and pretense: though they're fully clothed, he somehow strips them naked. It's all in their expressions. I shoot a lot of frames, then hope to find one that achieves a sort of Avedon standard. (Click on Avedon's Portraits here - wonderful!)
I've begun this series at school. I found a great little hidden nook outside and just yards from my classroom. I started with Leo (below), then James (above). Out of 400 people there, I can only think of a few I'm interested in shooting. It's not only about capturing their chemistry: the artist, too, has to find some sense of intrigue in the face. Leo was obvious; I didn't think of James until I saw him wearing this hat one night at the Shuler Theater.
I love the feeling of engagement and excitement when a new project is underway.
March 29, 2010      The Wild Old Wicked Man
For two weeks I've threatened to get outside and shoot some landscapes and portraits. I haven't had a chance at landscapes, but I pulled my friend and teaching partner Leo Linsky outside after school today to shoot this pair of portraits.
They remind me of Yeats' wonderful poem, "The Wild Old Wicked Man"
I have what no young man can have
Because he loves too much
Words I have that can pierce the heart
But what can he do but touch?
Leo has inspired me for years, a philosopher with no room for boredom in his DNA. Thank you, my friend.
March 28, 2010      Changing Seasons, Shifting Gear
Branding season will be here as soon as the ground dries out from the extraordinary number of snowstorms we've had in 2010. Old-timers say we'll see a profusion of flowers blanketing the land this spring and summer, flowers that haven't been seen in decades. It should be a banner year for strong, tall grass...and thus a great year for cattle and cattlemen. And photographers!
My picture of Jack is almost two years old now, taken at the spring branding at the Sumpter Ranch northeast of Branson, Colorado, in April of 2008. (I remember how muddy the pens were: maybe they won't wait for the ground to dry!) It remains a favorite shot of mine and shows my approach: I'm more likely to portray the people than the action of the branding itself. Jack and his buddies had yielded to the younger generation, letting those in their 20s do the work while the older generation enjoyed the action and socializing from the sidelines. My impression was that Jack could have gotten the work done faster and smoother than the younger bucks...but it was their turn now.
Between the busyness of the school year, the relentless profusion of snowstorms, and the work I've done for The Chronicle-News, I haven't done much outdoor or portrait photography in a long time. I've got the hankering to get outside! It's coming, and so am I.

---
March 21, 2010    Rock Bands Like Low Light!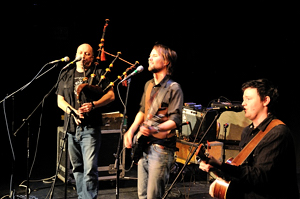 I don't mean to devote this blog entirely to stage photography, but apparently that's all I've been doing this month! Spring began with a snowstorm yesterday, with another due midweek, but soon enough I plan to be outdoors, and shooting outdoor subjects, including people and landscapes!
For today, though, let's look at last night's Shuler Theater concert by Toronto Celtic rock band Enter the Haggis, which I was photographing and reviewing for The Chronicle-News. When the band started, my first thought was, Here are five earnest white guys in blue jeans, wearing shirts of various shades of black, against a black floor and black backdrops: this is a photographer's nightmare! To exacerbate matters, they used very low light, and I needed to shoot without flash. Luckily, for me, the lighting never changed, so I shot in manual mode, setting the shutter speed at just 1/10 of a second, the ISO speed all the up to 2500, which the Nikon D300 can handle fairly well, and the aperture on my 18-200mm zoom lens to f/4, though it rode up to f/5/6 when I zoomed in close.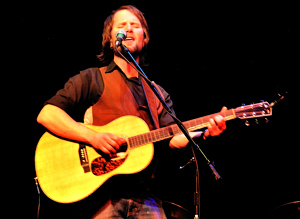 At 1/10 second, all hope for sharpness was out the window (if the Shuler had windows): my hands are steady, but not that steady. Compare these with those below, where the plays used brighter lights and I could use faster shutter speeds.
Also, these guys are a rock band: they never stood still, adding further blurring. These shots are the best I got. With sharpening in Capture NX2, they're gonna have to be good enough for the Chronicle, and this blog!

---
March 13, 2010    Shooting in the Dark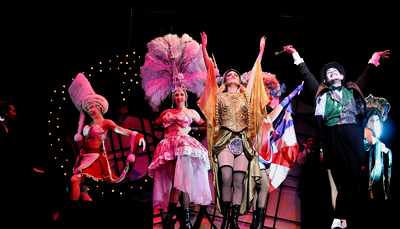 I'm planning to use some of my Spring Break, two weeks away, to update the photography galleries here, adding the best photos I've taken during the past several months. (Unlike the blogs, updating the galleries is a big, time-consuming project. You can always find my best pictures, when they're brand new, right here on the blogs.) When I update, I think I'm going to have to add a new gallery called Theater, or maybe Showtime. Just as I never anticipated having a Photojournalism Gallery -- it's now one of the most popular -- I'm surprised to have a growing body of work shooting plays at Raton's fabulous Shuler Theater.
It helps that I know everyone involved in the theater and they give me full run of the place. I like to shoot from the loge boxes, from the balcony, and from the center of the front row -- as in the picture above, from last night's nationally-touring production of Cabaret. I submitted these pictures to The Chronicle-News with my review, which will run early next week. I didn't submit an alternate take that they may have found too racy.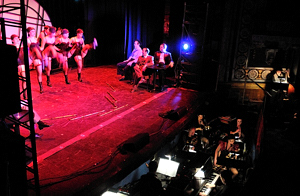 The picture on the left was taken from the left loge box, as was the Hansel & Gretel photo in last week's blog, below. The advantage here is in showing the 8-piece band down in the orchestra pit: the audience never got to see them, and they were in costume! The pit was able to hold seven musicians and their instruments, including a full drum-kit, but the bassist had to stand with the audience: he's visible at the top right. (As always, click on any picture to enlarge it.)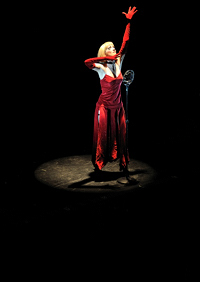 The touring company travels with an 18-wheel semi filled with sets and props, including big speaker columns that obscured my view from the loge box. When Sally Bowles sang the title song, "Cabaret", I crept out on the balcony to get the shot on the right.
It's so dark when I'm shooting that I just carry one set-up, my Nikon D300 with the 18-200mm lens, using aperture priority at f/4.5, shutter speed usually at 1/30 second, and the ISO speed automatically shifting to meet the light needs. (The ISOs here are 320, 3200, and 400, from top to bottom.) It's versatile and works pretty well.
When it's a local production, I like to shoot the final dress rehearsal in order to have more freedom of movement (although I did pretty well last night during a New York-produced professional show!). Then I shoot the public performance and write a review for the Chronicle, which buys some pictures from me to accompany the review. It's not a bad deal. Too bad it's not more fun ;-)

---
March 6, 2010    Fun is Child's Play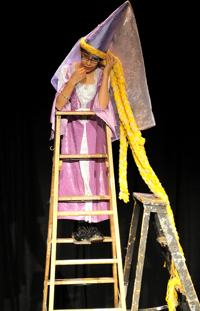 I said I was going to photograph the final dress rehearsal of Raton Youth Theater's Brothers Grimm Spectaculation in order to have a diverse set of photos for my Chronicle-News review of this weekend's production.
The truth is, I had such fun photographing an earlier rehearsal that I couldn't think of a better way to spend some time.
I was able to shoot from the balcony (Rapunzel high atop a ladder, left, and the Princess kissing the Frog, bottom) and both loge boxes, left (Hansel & Gretel, below) and right, to supplement shots I'll get from the floor tonight.
I dressed in dark clothes to minimize distraction to the young actors, though I guess distraction might actually be good for them: their next time on stage would be opening night -- instead of an empty theater, they'd be playing to a full house.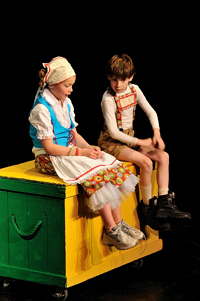 I had fun listening to the kids delivering killer punchlines to a silent house, imagining what a revelation it would be for them the next night when the audience roars back in laughter. Sometimes Gail Dixon-Willden, the director, laughed out loud. Sometimes I couldn't help but join her.
The next day at school one of my students said she thought of me whenever she saw camera flash. But that wasn't me! Gail took some pictures with flash, but I was shooting without it. I set my D300 to f/4.5 at 1/30 second, then let the camera do the heavy lifting, automatically adjusting the ISO speed as needed -- most are between ISO 800 to 1200.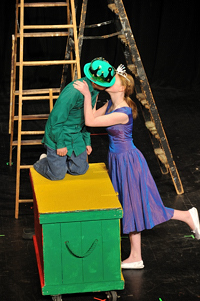 Once I found that most shots worked best in a vertical format, I stuck with that: it's easier for the Chronicle's editor, Sheila Hamlin, to work with one format, not a mix of both horizontal and vertical. I've already got some great shots and I haven't even shot the show itself yet, so I'm planning to submit a lot of shots. Making them the same format increases the chance they'll all be published.
It's hard to consider any of this work. It feels more like child's play: it's that fun.

---