Blog -- March/April 2009
Tim Keller Photography
  Find Tim's Blogs by Date - Archive
---
April 25, 2009    You Get What You Pay For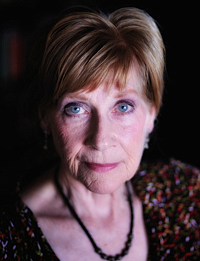 I've sold two prints to locals this week, delivering them by hand. One was this portrait of actress Kathryn Engel, which I shot Monday for my story (1, 2) in The Chronicle.
With the other I explained to the buyer, my friend and neighbor, what his options were and what he was getting for his money.
Anyone can copy a print off the web, including this website, and take the file to Wal-Mart for a perfectly adequate 4"x6" print, picking up a frame while there and putting the picture on the mantle at home.
Depending on whether it's exposed to direct sunlight, the picture will show obvious fading within 2-6 years; in fact, after ten years much of the color may already be gone. Conservation glass, which protects colors from UV rays and fading, is expensive. (Even with good glass, you should never hang prints where they'll ever receive direct sunlight.)
The issue is whether the image you want to frame is worth an investment. When I have prints made from my photographs, they're "archival pigment prints" directly on acid-free art paper (not photo emulsion paper). Like the acid-free mattes, frames, and conservation glass I use when framing, all materials are museum quality, meaning they will last without fading or other deterioration for at least 100 years before requiring any maintenance.
Paying $45+ for a 12" print is just the beginning: a quality matte, glass, and frame will cost twice that. But instead of a fading photograph on the mantle, you'll get a family heirloom and art, hung on the wall for generations. Every time I receive one of my images from the printer and open it to sign, I catch my breath and am again reminded how beautiful this form of art is. You get what you pay for.

---
April 13, 2009    An Unexpected Gem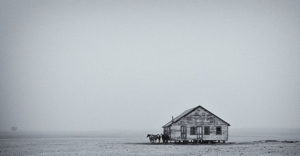 Dot and Mark Drobney swung through yesterday and today on their vacation from home in Connecticutt. Dot's a Flickr photographer. Our plans for a photo outing were, I thought, largely dashed by a foggy gray storm of snow and sleet . The dirt roads were too wet to chance, but just before it started getting dark we decided to drive the 27-mile volcano triangle around Capulin Volcano National Monument.
I told them to watch ahead: we were approaching the site of my photo "Lonely House with Moon." As we slowed to a crawl, we saw three horses taking advantage of the shelter in the lee of the house. We got out, Dot with her Canon 40D with 28-135mm lens (same as my dad's camera) and I with my Nikon D300 with the 18-200mm lens (shot at 29mm).
I haven't seen her shot yet, but mine is posted above (click to see it large). I call it "Lee"; I'm pretty happy with it and just ordered a 15" print to be matted and framed for my Mitchell Museum show, along with new prints of "Fuego", "Golden", "Archie", "Archie's Kitchen", and "Bringing Up the Rear". They'll join 14 other framed photographs in my show at the Mitchell, in Trinidad, Colorado, May 1 - 24.
Meantime, I need to remember not to hesitate to go out into the weather with my camera.

---
April 10, 2009    South of the Conchas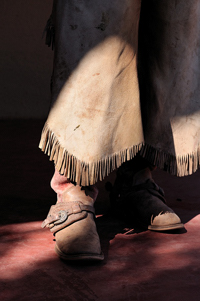 I left at dawn Monday, got back at 10 that night, drove 380 miles of bad road in between, and spent six hours on the Cabra Springs ranch with the Rouse family, just south of the Conchas River.
I filled two 4GB memory cards, almost 600 images shooting RAW, mostly because trying to get good pictures of Brittany Rouse training horses was, with my inexperience, a matter of luck: I just fired off a lot of shots and kept my fingers crossed.
I've processed 22 images, used six in a pair of features in The Chronicle (see 4/9/09) and sent off eleven with a 1500-word profile I wrote for Western Horseman.
The best shots, not surprisingly, are the ones I already know how to do -- portraits and other things that stand still, such as the Brittany in her chinks and boots above.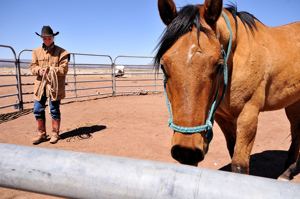 Or here, where Brittany and the colt stood still. In this case, the colt took an interest in me and the camera, making my job easy. But once the pair of them went into motion, getting a great photo became a matter of luck. I can see that I need to learn exactly what they're doing so I can predict where they're going to be and how to get the magic shot. Back home, I read a bunch of Western Horseman articles on training colts. Next time, I'll be a little better. One step at a time.

---
April 5, 2009    Between Acts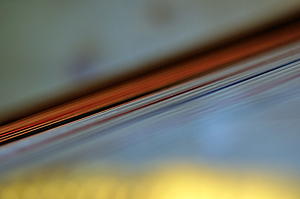 I've started my week of spring break with a cold that's cut my energy level pretty effectively, but two things have me going.
I'm leaving tomorrow at dawn for a long drive down back roads and dirt roads, past our own land and through Roy, Mosquero, and Trementina, to visit with the Rouse family on the Conchas Ranch. Brittany Rouse trains horses out there. Besides a lot of beautiful photography, I'm hoping to create a feature on Brittany for Western Horseman. (My feature on Archie West in the May issue of Western Horseman should hit newstands next week.) I don't plan to get home until the following night.
Second, I just learned that the A.R. Mitchell Museum in Trinidad has scheduled a show of my photographs for May 1 - 24...soon! I've chosen "Lonely House with Moon" for the poster and postcards and the title "Distance -- the Northeast Corner of New Mexico". There will be an artist reception at the show's opening Friday evening, May 1, from 5 to 8.
Sometimes I wish life would just slow down a little, but I should note that I've been reading a novel in the mornings -- Hemingway's For Whom the Bell Tolls
-- and I haven't been able to do that since at least last summer, I've been so busy with writing and photography. That's an imbalance: life's not in balance when there's not enough time to read novels. So, I'm reading a novel: maybe life is balancing. My balancing act.
I should have a lot more to say in a few days.

---
March 29, 2009    Grand Derangement
Shooting the Grand Derangement concert from the front row of the Shuler Theater Tuesday night, I went through all four of my lenses. The band was too kinetic for my fixed lenses: they all moved around too much, and there were too many of them. The 85mm was way too close, and I often couldn't fit them in the 50mm either. I tried my Sigma 10-20mm but even at 20mm, it wasn't close enough.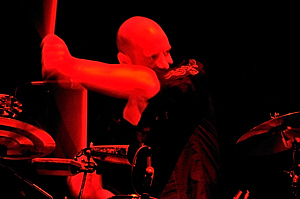 Finally, I tried my Nikon 18-200mm super zoom, which gave me great flexibility at the expense of speed. Speed in a lens is the ability to gather light quickly, which is a function of how wide open the aperture can go. The measurement is called f/stop; it's actually a fraction. My 50 goes to f/1.4, the 85 to f/1.8, both very fast. The two zooms can open only to f/3.5 at lower magnifications and f/5.6 when zoomed out to higher magnifications. The difference in light-gathering ability is huge.
This produces two effects. First, you have to use slower shutter speeds, which in turn makes it harder to get sharp images. Second, you have to use high "film speed" (though this is digital) which can produce "noise", a photographer's term for graininess. As in life, photography usually presents choices, each of which comes with trade-offs.
I like the results in the photo of the drummer, above. The slow shutter speed leaves a blur where each of his two drumsticks fly. The graininess combines with the red stage light to give an attractive, arty look. By the way, had the stage light been whiter and brighter, the shutter speed would not have been as slow. I usually shoot in aperture priority, meaning I set the f/stop I want and let the camera automatically use the shutter speed that will produce the correct exposure. I like the way it worked out here.

---
March 22, 2009    To Flash or Not to Flash, That Is the Question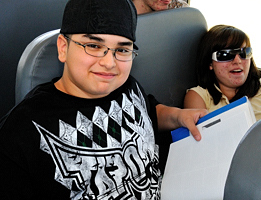 The event I reported yesterday was held mostly indoors, so I gave my flash a good workout. As I've openly admitted below, the aptitude I've shown for photography in general has certainly not extended to the use of flash.
Very gradually, through days like yesterday, I'm trying to improve. Here's a picture of Daniel Sanchez, who's in my sophomore English class at Raton High School but is on the bus here studying for his impending Horse Judging competition at the Clayton FFA Invitational.
Outside was bright sunlight; inside, deep dark shade. The window behind the kids faced south, giving hard white light. Without flash, Daniel's face would have been in darkness. I dialed down the flash power of the on-camera SB-600
all the way to -3 for this picture, then used a control point in Capture NX2 to lighten Daniel's face, helping it stand out from the rest of the frame.
It did the job.

---
March 15, 2009    The Artistic Challenges of Photojournalism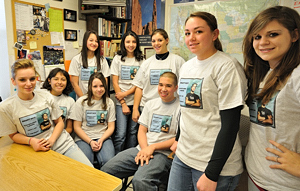 My photography has been dominated lately by the requirements of illustrating my own articles in The Chronicle-News. It's a fun challenge, to tell a story with very limited options -- often just a group of people I need to picture. Because this process has largely pushed aside my fine arts photography, I aspire to produce photojournalism as artfully as possible.
The best photojournalism has always been great art. From James Nachtwey's war photography to the many impressively artful photos of the Obama campaign, great photographers manage to illustrate stories for newspapers and magazines while succeeding in producing art.
I can't claim that, but I'm trying. More typical is the shot above of the DWI Student Task Force at Raton High School. I had scheduled them to come to my own classroom for a picture before school Tueday. I didn't know most of them. They had just received a box of new t-shirts promoting their Friday fundraiser bringing MTV star Diggity Dave to town.
I had five minutes. Less. Looking for a good picture, I suggested they each don one of the new shirts and squeeze in here behind my own desk. (Pictures of Christina and Darcy adorn the wall behind them.) No flash (for which I continue to find no aptitude), just window light from the left and some fluorescent light from above, white balance set to automatic so the D300 could figure out how to balance those two opposing light sources.
It's not art, but it's the best of several such shots I took for The Chronicle last week. It looks like I'll be taking lots of group shots for the foreseeable future: I'll keep trying to find new angles, new ways to picture the story, always hoping to find something worthy of this, my photography site.

---
March 8, 2009    Asking Strangers for Portraits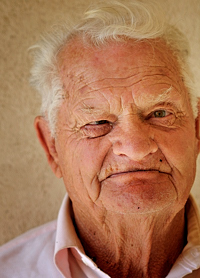 I've largely completed the series of portraits I took at the Clayton auction last weekend. While some will find their way into the portrait galleries on this site, for now the set is posted here.
It was a valuable lesson, walking up to a stranger whose face fascinated me and asking whether I might take his picture outside: without exception, each said yes.
In most cases, the new softwares I've written about below were included in the processing. I've been guided by the standard I set two weeks ago when I wrote that the new softwares should create better images without drawing any attention to the processing itself. I'm happy with the results. I look forward to returning for the next Clayton auction April 4 to extend this series.

---
March 1, 2009    Jumping on Opportunity, Country-Style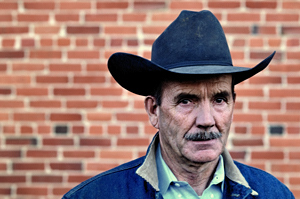 Yesterday morning I was trying new tricks on old images using the NIK software when Christina said, "I wish you were going with me to the auction in Clayton today." And voila, I was off to what turned out to be a 7-hour auction -- and cultural event and entertainment. I quickly saw that I had the makings of a great story for The Chronicle; in fact, I'm planning to expand the story to magazine length and try to find a magazine home for it.
I also realized that I had a priceless opportunity for portraits. Most photographers try to find beautiful people for portraits. Though I did photograph one beautiful person, instead I photographed simple elderly country people with amazing looks. I asked almost a dozen, one by one, for the opportunity to photograph them outside in the daylight; not one turned me down.
The auctioneer runs the show, keeping himself and six employees so busy that I couldn't interview anyone during the auction. When it was over, though, I managed to interview the auctioneer, Walter C. Hall, who's been doing this since 1971. And yes, I got his picture, too. That's Walter, above.
Now I have some great new portraits on which to practice my new NIK software. I'm sure I'll still be at it next weekend and beyond. What could be better?

---