The First Blogs: November 2008 through February 2009
  Find Tim's Blogs by Date - Archive
---
February 22, 2009    Turning Profits into Tools
Having found all the easy shots around here, I've been shooting less and finding myself at a plateau in my development as a photographer. The steep trajectory I enjoyed last year was not sustainable. Meanwhile, I've been spending huge amounts of time researching and writing articles for both Western Horseman and The Chronicle-Times, which I'm enjoying as much as photography -- and all the articles require new photographs, too.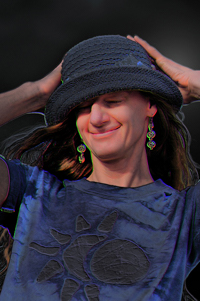 The writing is producing steady income and so is my photography, both in framed enlargements and as prints sold through the website. I've just turned some of the profits into new tools for photography.
I have three new photography softwares to give me new tools and skills in processing my photographs. I'm giving myself the equivalent of a college course in learning the new tools. Eventually, it will be like mastering the darkroom, but here at the computer.
First, I've upgraded to Nikon's Capture NX2 as my basic processing platform. The previous version was excrutiatingly slow at times, and there were many operations it couldn't do, forcing me to move into Adobe Photoshop to finish up. (I'm on a Mac, but all these softwares are available for PC, too.) The changes in NX2 are revolutionary. And it's fast. It leaves me little, if anything, to do in Photoshop.
I've added Color Efex Pro as a plug-in to Capture NX2. It adds lots of new bells and whistles, ranging from great improvement in some finished photographs to applying "styles" to the photos such as what I've done to Christina in the picture above.
Finally, I've added Silver Efex Pro
as a plug-in to Photoshop. (It's not available for Capture NX2.) This does for black-and-white processing what Color Efex Pro does for color processing. Both are produced by NIK Software, whose creations are so impressive that Nikon has bought a share of the company and integrated their products into its own offerings. (At NIK's website, click on "Watch Lessons" -- it's what convinced me.)
My goal is to greatly advance my tools and skills in producing great natural-looking photographs. If I succeed, you won't know I've used these plug-ins. The best photographs are still the ones in which everything worked so well that they needed no processing at all.

---
February 16, 2009    Roping the Story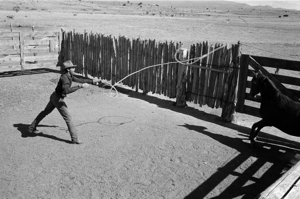 In preparing my photographs of Archie West for a Western Horseman article due in May, I discovered that a young photographer had shot a series on Archie forty years ago for an article which Archie ended up pulling the plug on. Archie allowed his neighbor Curt Schaafsma to scan some of these old pictures for me.
Curt also scanned the stamp on the back of one photo, which led me to Stephen Guion Williams, still a fine photographer living in Pennsylvania. Stephen has provided clean hi-resolution images for Western Horseman to consider in illustrating my article.
Archie was the prototype for Monte Walsh
, written by Archie's neighbor Jack Schaeffer, who also wrote Shane. Stephen's terrific photo above, of Archie lassoing a colt forty years ago, evokes some of the great pen and ink illustrations I've seen in old western novels. I'm more excited than ever about the Archie West article, with its unforeseen collaboration.

---
February 7, 2009    Going Backward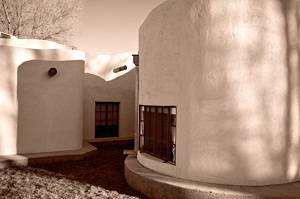 If a thrill can be sublime then that's what I experienced this week when I was finally able to visit the headquarters of the TO East ranch, which was still the Smith Ranch when we moved out here ten years ago.
Located on Corrumpa Creek and currently the lovely home of Marjie and Grant Long, the main building served as a post office for the village of Corrumpa a hundred years ago when cowboys would ride from as far as the Cross L on the Dry Cimarron to pick up their mail.
This is where the legendary wolf Lobo was trapped by Ernest Thompson Seton.
The Longs have invited me to return in different seasons, and I also plan to photograph the extraordinary interiors of the main house, bunkhouse, and guest house, but for now I just took a few shots. My favorite so far is posted above. I'm already looking forward to the rest of my favorites, yet to be shot.

---
February 1, 2009    Forward Motion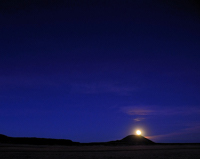 It's hard to equal the exciting announcement from New Mexico Arts this week, but I've added a pair of newly matted and framed prints to the walls of Studio C. These are my first exhibited images printed by David Frank at Frank Images in Trinidad, and they look great.
"Rhapsody in Blue" (right) and "Fore and Aft" join several other framed photographs available for sale. After its three-week winter break, Studio C is open for its 2009 season, adding a day: it's now open Thursday through Sunday. Studio C is the best place to see and buy my work.
I was honored to be able to visit the TO East ranch headquarters with my camera yesterday. The place is brimming with fascinating history. Marjie and Grant Long have invited me back for more, and I look forward to taking them up on it.

---
January 24, 2009    Work With What You've Got. (Then Get More.)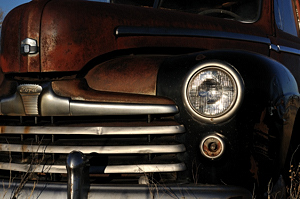 At the end of my two-week Christmas vacation, I spent some new photography income and ordered books of photographs by three of the greats -- Henri Cartier-Bresson, Richard Avedon, and New Mexico's own late Douglas Kent Hall. The books have arrived and I'm admiring and studying the work.
It would be easy for me to feel frustrated. I want to make work as good as theirs, and I can, but time and opportunity are measured. Patience is requisite.
My first six months of avid shooting was wildly successful and led to this website, among other successes. I shot thousands of photographs. Half the success was simply where I live, a wonderland of fabulous images.
I've largely exhausted what's available here easily; now I find it necessary to make plans, to create situations, to search out subject matter. This has led to a sideline of writing magazine and newspaper articles to accompany my photography projects. The writing takes time away from photography -- another potential source of frustration if I didn't find the writing to be as satisfying as the photography, which I do.
Between projects, I'll go grab a few easy pictures nearby while I await grander opportunities. That old Ford up above sits behind Wayne Cruz's place in Capulin. I went and shot it this week. Just for fun.

---
January 18, 2009    Adding On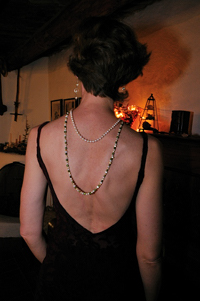 It's been a busy week. Even as The Chronicle-News ran five of my stories within four days, I was starting the next, a profile of local cowboy Harvey Shannon, who led the cattle drive featured this month in my article in Western Horseman.
Hunter and Mike Schoonover have been converting my first two music albums from analog to digital so we can feature samples on TimKellerArts.com and sell CDs in addition to the original LPs and cassettes.
Finally, this morning, I've added fourteen new photographs to the galleries here at TimKellerPhotography.com -- the first since we launched the website at Thanksgiving with 130 photographs.
The new ones have been shot in December and January. They include dark snowy snowscapes in black-and-white, portraits of Peter Burg and Archie West, warm lovely photos of my guitars and the old typewriter Christina keeps at Studio C, and some interiors from two wonderful old adobe homes on the Turquoise Trail south of Santa Fe -- three in Archie West's house, and one in the living room of his neighbors, the Boyces: that's Christina there, above, on New Year's Day.

---
January 11, 2009    Photojournalism
By last summer, my photography had led me to look closely and differently at the photographs in magazines and newspapers. I admired many, envied some. Others, I thought, "I could do better than that!" And I found myself wanting to.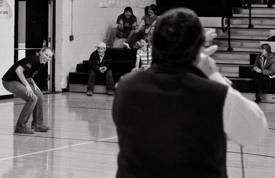 I started renting, and buying, documentaries on National Geographic's
photographers
and others. I started looking for my own stories to report, resulting in the cattle drive pictures and a quick first success landing my story in Western Horseman.
When The Chronicle-News ran a feature on that first magazine story, they asked me to write for them, illustrating stories with my own photographs. One of their reporters is now gone for a week and I've stepped in to take up the slack, filing four stories in the past three days. It's my first experience as a reporter or photojournalist.
None of the four photographs I've submitted would make it into my website here. All were taken quickly during the last three days. The best was a portrait. Another pictured a large acapella singing group giving a concert in a high school gym. Another was simply five people trying to look busy around a table. The photo above pictures last night's "slave sale", an annual FFA fundraiser at Des Moines School. That's Ryan Brown (yep, same cowboy from the cattle drive story) auctioning off one day of senior Amaris Newkirk's ranch labor. (She brought $250.)
Already I see that newspaper work is unlikely to produce great photography, yet I enjoy the challenge of creating good illustrations for my own stories, all done on a deadline. At the same time, I'm working on the Archie West story for a magazine...and as soon as I can carve out some time, I'll be posting some pictures of Archie right here at TimKellerPhotography.com!

---
January 4, 2009    Mixed Media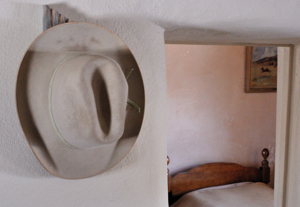 I spent four days over New Years at the Boyce's, down the Turquoise Trail south of Santa Fe. I took advantage of the opportunity to spend several hours over two days photographing and interviewing neighbor Archie West, who's been in the same house across the highway since 1943. I took this picture of Archie's hat hanging outside his bedroom. I love the way the image resembles a painting, and the way it appears to be two pictures, the second one leading us into Archie's room with that tightly made bed and a horse galloping through the Cerrillos hills in the painting above. Archie's house is spare, neat, clean, with the smell of ham cooked on a woodstove. I was thrilled to learn that one of my favorite photographers, Kurt Markus
, has used Archie's place for photography, most recently for a portrait of Cormac McCarthy
, one of my favorite novelists. Check my flickr gallery for the first postings of Archie; later, I'll put the best up in my galleries here. Thanks for the visit -- and happy new year!

---
December 29, 2008    In a Flash
I intended to shoot solely with natural or available light, eschewing flash photography altogether. I like simplicity. But I'd get some shots which didn't quite work; analyzing them, I'd see they might have worked if I had some fill flash. A nemesis has been the ubiquitous cowboy hats around here: the brighter the sun, the darker the shadow, diminishing the quality of some portraits.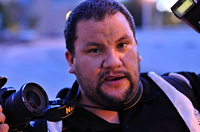 Shooting with the flash on top of the camera isn't much of a solution, bringing problems of its own. I started studying images by two mentors I've found, Matt Lauer on photo.net and Marc Gutierrez on flickr. Both are masters of flash photography, along with their many other talents.
Look how each is triggering flash from the side. I've admired Matt's shot for a long time, but it was actually watching Marc take his that led me to buy his set-up, a Nikon SB-600 Speedlight with a Cactus V2 wireless flash trigger. (In my picture above, I catch Marc firing his flash.) Off-camera lighting allows more natural and attractive shadows, creating a better image.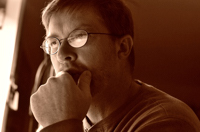 Photography is about seeing. About composition. But an effective image depends on the light. Being good at photography doesn't make one good at using flash. I wish I could say I've mastered flash; instead, I'm barely off to a shaky start. Here's my friend Mike focused on building this very website; it's the first flash shot I got that seemed worth showing anyone. I have a long way to go.
I started reading the new book Annie Leibovitz at Work
last night. She's not quick to use flash -- many of her greatest images rely on natural light -- but, like Matt and Marc, she knows when she needs flash, and then she knows how to use it. (This is understatement.) I guess that'll be my model moving forward.

---
December 27, 2008    Painting with Light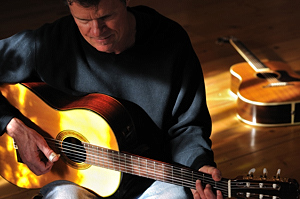 Building the TimKellerArts.com website created the need for some new photographs over the past week. Christina and I took my two guitars and the Nikon over to Studio C, which always gets magical light. Photography is painting with light. What makes these two pictures work is not the subject matter itself: the same shots in our living room would not have worked. Though Christina's compositional skills are at the fore here, the greatest success of the photos is the light. (Northern New Mexico's winter light is gorgeous.)
I've had the Nikon D300 for over a year and Christina, a talented photographer with a great eye, has barely gotten her hands on it! Partly, there's a learning curve: it takes some time and experience to master this camera. The other part has been her skittishness, and mine, at having her take it over. We've had two shoots this week and we're both getting comfortable with her shooting the Nikon. With results like this, who wouldn't!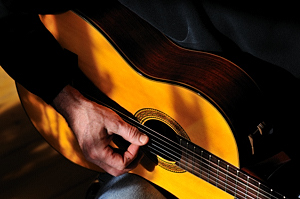 We started out using the tripod, which gives the sharpest pictures, but Christina quickly found that unless you get your subject to stay in the exact same spot, it's too cumbersome. Once we freed the camera from the tripod, she started getting great shots.
The first six months with this fine camera, I found it easy to just get in the truck and go find fabulous photographs. Eventually I exhausted the easy ones. Finding good shots is now more of an effort. I'm brainstorming good projects, projecting ahead to new opportunities and laying the groundwork for them now. So, when a photographic challenge pops up in front of me -- like, "Tim, you need a better photo for the Music cover," -- well, I'm there.

---
December 20, 2008    'Tis the Season...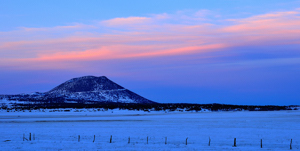 ...to sally forth into the frozen tundra to shoot pictures! As a teacher, I've just begun my two-week Christmas vacation. This time last year, my camera was brand new: I was excited to leave the woodstove-toasty house to venture into the pre-dawn single-digit morning for photography. The best pictures wait in early morning and late afternoon. (The Capulin shot above was taken from Larga Road after sunset earlier this month.)
One morning soon I'll be turning on the truck headlights and heater as I load the camera, tripod, and thermos of Studio C's coffee. There's no guarantee I'll get that great shot which makes the venture worthwhile -- I seem to have that success about 2/3 of these trips -- but once I'm out, the morning is always grand and I'm glad to be where I am. Can you spot the successful dawn shots in the Landscapes gallery? There you can see what draws me outside before the dawn.
For now, Mike and I are busy building the Tim Keller Arts section of the website -- where you'll have access to my music and writing -- and that will keep me here at the computer today. Speaking of writing, the Western Horseman article is getting lots of attention around here. I had a fun interview with Billy D on KRTN. The Trinidad Chronicle-News called to interview me and ran a story yesterday. Sales at Studio C have been brisk -- even getting phone orders from the big city...Raton.
Thanks for checking in: I hope you'll keep coming back, and that you'll leave me a note in the guestbook. Have a warm and toasty holiday.

---
December 13, 2008    St. Anthony and Photography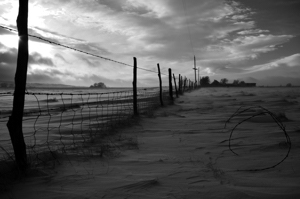 After I posted "Snow Day" four days ago, the storm began clearing in time for me to go out for photographs in late afternoon. The roads were bad, the temperature worse (about 16 degrees Fahrenheit and windy), so I stayed close to home. I shot several dozen images and was pretty excited by them. I got home to find Christina shoveling a path to the chicken coop. I grabbed the second snow shovel and dug more paths.
Inside, as the images loaded onto the computer screen, I started cooking dinner while Christina (busy bee!) shifted to vacuuming the house: she was right under the computer. My first images looked exciting -- the shot above was one of them. I pulled the memory card, returned it to the camera and cleared its memory. Sitting at the computer to begin processing the images, I suddenly discovered that I'd failed to click the button to actually upload the pictures from the card up into the computer! To say my heart sank, that doesn't cover it. My heart exploded. I'd lost the pictures.
Eventually I did some research that night which led me to discover that I had a software disc which came with the memory card, designed for just such a catastrophe. It didn't work. For 24 hours, I remained depressed at the loss of my images even while Christina implored me to pray to St. Anthony -- after all, he had produced the keys to Studio C even after she'd dropped them early in the storm and the snowplow had pushed them up the highway.
The next night, with Christina and St. Anthony standing over my shoulder, I tried a different path in the recovery software -- and it worked! So okay, Tony, I'm a believer. I'm posting the images to Flickr right now and the best will find their way to my galleries here. Believe.

---
December 9, 2008    Snow Day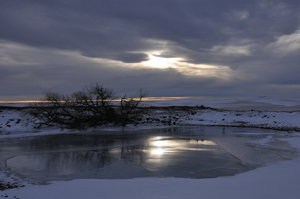 Winter is still young but I'm home for a third snow day. When the north wind blasts unending snow across the road, you can't see the hood of your own truck; Highway 64/87 closes. I like snow days as much as anyone: finished with my morning coffee, I have hot chocolate waiting for me to lie on the couch under a blanket, across from the woodstove, to start Hemingway's For Whom the Bell Tolls.
Stepping outside is bone-chilling, a rude shock. (Today's high is forecast to be 21 degrees.) Besides basic chores like shoveling a path and tending our animals, two things get me out of the house and into the world on these winter storm days. One is EMS runs: drivers slide on the ice and wreck; volunteer EMTs are called out. That's me. It's the last thing I want to do but, once out and engaged, it's exhilarating.
The other is photography. You don't get pictures from the couch. I've stood for a half hour at 4 degrees Fahrenheit waiting for the light to be just right. Driving around in winter, usually early or late for best light, you scout for a great picture. You anticipate it: where will it be? when will it be? You tuck fingertips under your arms for warmth, so you can feel the shutter release button when you need to. You pace for warmth while the tripod holds the camera ready.
For all that, sometimes you don't get a picture worth the trouble. But sometimes you do.

---
December 6, 2008    Winter Tranquility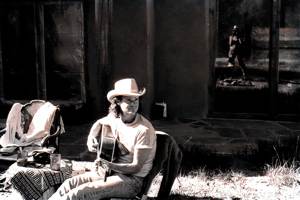 Here's a favorite picture, taken exactly twenty years ago in the weather-protected front yard of our L-shaped adobe house outside Serafina, New Mexico. I had left teaching and was making my living touring the country playing solo singer/songwriter gigs. You can see Christina reflected in the window, standing in her bra top taking the photograph; her journal is propped against the house. The windows to the left are covered in plastic, placing the shot in winter.
It's been fun. Christina was making costumes for plays and movies, working in Santa Fe, Los Angeles, and New York. She was also active in painting, multimedia installations, poetry, performance art, and photography. She borrowed the camera my dad had handed down to me, then it was stolen from her car seat during rehearsals of a Shakespeare comedy in a park in Santa Fe. Here, she's using the replacement camera she bought, a 35mm Canon film SLR with a kit zoom lens; she's still using it today.
This old adobe house had three woodstoves for heat and cooking; it faces south for passive solar heating. The L shape keeps the front yard free of the prevailing SW winds, making it warm in the sun even in winter, as you see in the idyllic moment here. Today, our dear friend Jerry West lives in this house. He had done the renovations before we moved in; last month the house held a big exhibit and sale of Jerry's wonderful paintings. It's a magical place.

---
November 30, 2008    Snowed In
After the website launch Friday, I got out to take pictures for the first time in three weeks. It felt good. Here's the first one I took.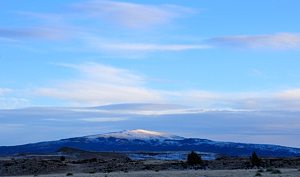 That's Sierra Grande, an old volcano, taken from the base of the northeast slope of Capulin Volcano. My home, Des Moines, New Mexico, sits at the base of Sierra Grande, at the bottom of the slope to the far left.
We sold our first print from the website, a 16"x24" Bringing Up the Rear. Thanks, Ms. J!
There's some excitement brewing around here about the rapidly approaching arrival of the January issue of Western Horseman magazine. It has my article on the cattle drive, now called "Driving on Blacktop", with three of my photos. Studio C is going to stock 2 dozen copies, and I'll make some available here if you can't find one where you are. As excited as I am to have my work in the magazine, the real stars will be Harvey Shannon and Ryan Brown, the local cowboys who ramrodded the 4-day cattle drive. (In addition to lots of extra magazines for sale, Christina is also ordering larger hats for Harvey and Ryan.)
I'll be posting some of this weekend's photos to the Flickr and Photo.net galleries this week. Some that do well there will end up in my galleries here. For now though, we're snowed in, more than a foot of the stuff on the ground and it's still coming down. It doesn't get much better than that.
Thanks for checking in. Leave me a note at "Comment", and have a good week.

---
November 28, 2008    Celebrating the New, Thanksgivingly
My Nikon D300 arrived the day after Thanksgiving last year. Exactly one year later, I'm launching timkellerphotography.com, showcasing photographs taken with that camera.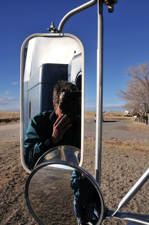 In the last 365 days, I've taken 10,000 photographs (more than 1000 on one day of a cattle drive), processed 2000, posted 1000 online, culled those to a few hundred, and now I'm starting my own website with the best 130 or so.
Those web postings on Flickr and Photo.net have brought 150,000 page views. I've sold five large framed prints and won an award in my first large group exhibit.
I spent twelve years giving my all to reach higher levels of success as a singer/songwriter. I believe in signs (don't we all?): the satisfactions and successes I've found so quickly in this new immersion in photography signal my arrival in an art form I've enjoyed all my life but suddenly found.
Thanks to Christina at Studio C, always. Thanks to friend, software engineer, webmaster, and all-around amazing guy Mike Schoonover of Folsom --- I e-mailed him last month to ask questions about how one goes about creating a website: he came right over with two laptops to set next to my Apple desktop and, before I knew it, this site was under construction. Mike and I have each put in a hundred hours building the site this month. Thank you, Mike.
And to you, thanks for being here.

---