Biography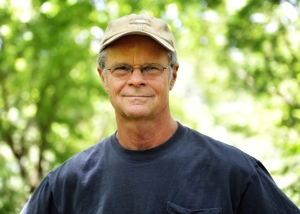 I'm traveling more than ever, but I take many of my photographs where I live in beautiful northeastern New Mexico. Growing up by the beach in southern California, I read my dad's photography magazines: He studied photography at a Santa Monica trade school but had to give up his career dreams to get a "real job" when I came along. I shot skateboarding and surfing with a friend's 35mm camera and 400mm lens on a tripod, developing and printing the shots in his darkroom. In high school I took a one-year photography course in the art department, where I learned composition and the mantra "simplicity is a virtue." 
I was a surfer; I competed in the first international skateboard championships at Anaheim. My grandparents were country people. They got me summer jobs on a huge ranch where my grandpa worked. Between that and Thoreau, then The Band and Merle Haggard, I became a country boy, moving from coastal southern California to the redwoods and wine country of Sonoma County, on to southern West Virginia, then back and forth between Texas and New Mexico a couple times each. I taught school in all four states, along with a few other odd jobs, some odder than others.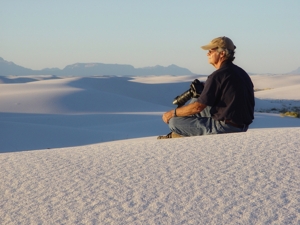 I always enjoyed getting good photographs, but I never bought a camera: I used hand-me-downs. At the end of 2007 I dove into photography, buying the just-released Nikon D300 digital SLR camera and some great lenses. I've been immersed in making pictures ever since. By the following summer I couldn't look at a magazine without studying the photographs accompanying articles. Many of them I admired and envied. Others, I thought, "I could do better than that." That led me to looking for subjects for photo essays, writing my own articles to accompany them, submitting them to magazines.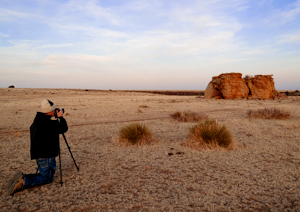 In January 2009 my first photos and features were published in Western Horseman and The Chronicle-News. Magazine and newspaper work became my focus. I love combining photography and writing, telling stories with my pictures.
I've had large shows, up to 44 framed works, in Trinidad, Colorado; Lovington, New Mexico; and several in Raton, NM, but I've grown my business entirely through licensing images and stories to newspapers, magazines, and an endless variety of companies. This website regularly draws licensing requests from customers who find my photographs through Google image searches.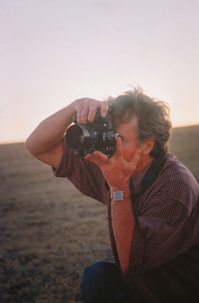 My wife, artist Christina Boyce, devotes her energies to arts administration and community building after years as director of a Colorado art museum, as Raton's tourism coordinator, and as owner of her own rural art studio, gallery, and community center.
In recent years we moved from a remote village to Raton, population 6500, where we live in a big century-old Craftsman home at the base of Bartlett Mesa on the northeast outskirts of town, butted up against the Colorado border, and I moved up to Nikon's benchmark full-frame pro cameras, the D4 and D5, so I can carry one lens (usually the 24-70mm) on the D5 and another (70-200mm) on the D4. (My 14-24mm and 85mm lenses get far less use.) II still use the trusty D300 kit, too, and lately I've added a Fujifilm X-T2 mirrorless camera with 35mm and 16-55mm lenses. I find myself using the iPhone 7 camera often, too, with impressive results. (I post some of those at Instagram where I'm @hilocountry.)
With retirement from teaching and semi-retirement from the hustle of magazine and newspaper work, I'm enjoying frequent travels to favorite places and to new far-flung places that I'm looking forward to exploring, and photographing, for the first time.
Life continues to be an adventure.